Are you debating desk vs table when looking at how a table stacks up to a desk for your home office setup? Whether you are working from home, choosing furniture for your office, or setting up a classroom, you need to figure out how to create the best space possible in which to get work done. To do this, you need to decide on what type of workstation you will use.
The most common options are a desk or a table. The desk vs table debate is one that depends on your situation, needs, and goals. Both are suitable for the job, but one will often better suit your needs. You should weigh both options to see which one meets the criteria best.
Consider the features and uses for each in addition to how they compare to each other. Doing this can help you to make an informed decision that allows you to get the perfect workstation.
Features of Desks
When looking at a desk, you will notice the design suits working and focusing on a task. Desks provide a workstation for 1 person. The desktop may be flat, or it may angle for better ergonomics.
The general design of a desk allows for various storage options. Many desks have shelves and drawers in which you can put items you will use while sitting at the desk.
Types of Desks
Desks can serve a variety of purposes and come in a range of styles. For example, a computer desk has features specifically to allow you to quickly set up your computer, such as built-in outlets or holes to run cords through. Plus, it has a larger desktop to accommodate the equipment, and many of these desks have a special tray for your keyboard.
A writing desk, on the other hand, has a smaller desktop since it only needs to give you space to layout paper and write. It may also have more cubbies and storage areas to accommodate your supplies. Many writing desks have a hutch that closes over the desktop when you are not using it.
Another example is a standing desk. These usually offer you the option to convert your desk to different heights so that you can stand while working if you choose. Using a standing desk can help reduce back pain and may offer other benefits, such as lowering blood pressure, according to the New York Times (4).
Is a Desk Better Than a Table?
When comparing a desk to a table, there are certain aspects of desks that may make them the better choice.
Organization and Ergonomics
The most significant difference you'll see is that a desk has built-in storage and organization features that you won't get with a table. Desks also are more ergonomic due to having the purpose of being a workstation.
Seating
Only a single person can use a desk at a time, which is not ideal if you have multiple people who need to use the space. It can create a traffic jam at the desk when everyone needs to use it. However, it does take up less space than a table and gives you a defined area in which to work.
Single Use
You may find it is easier to focus and to stay on top of tasks when working at a study desk since it only serves the purpose of being a workstation. Furthermore, your desk allows you to keep everything you need in a single spot, so you don't end up losing supplies or important things you need (1).
However, because of the defined purpose, it makes the desk a limited use piece of furniture. If you struggle with space, this could be bad. You need to give up precious space in which to put the desk and chair.
Limiting Design
In addition, many desks have a design where they have to go against a wall. The backside of the unit is not very aesthetically pleasing, so you want it against a wall where people cannot see it. This may work fine in your space, but it can also limit where you can put it.
Features of Tables
A table is essentially a piece of furniture with a flat top and legs. It is very basic in design. Tables do not have storage spaces or other features. They are simple in design.
Tables may serve many purposes. For example, dining tables are for eating. You can easily convert your table into a workspace if you desire.
A good thing about a table is it can seat multiple people at once, which is great if you have multiple people in your house who need a place to work. It also provides you with more space than you would have at a desk if you want to spread out when working alone.
Table Variations
Tables come in a wide range of styles. You can easily find out that fits into your home décor. Plus, it looks good from all sides, so you have more options on where to put a table in a room (2).
Many tables have extension options. You can make them bigger by adding in a section or extending the sides. This allows for a more customizable work area and makes it easier to use a dining table as a desk.
Desk vs Table Comparison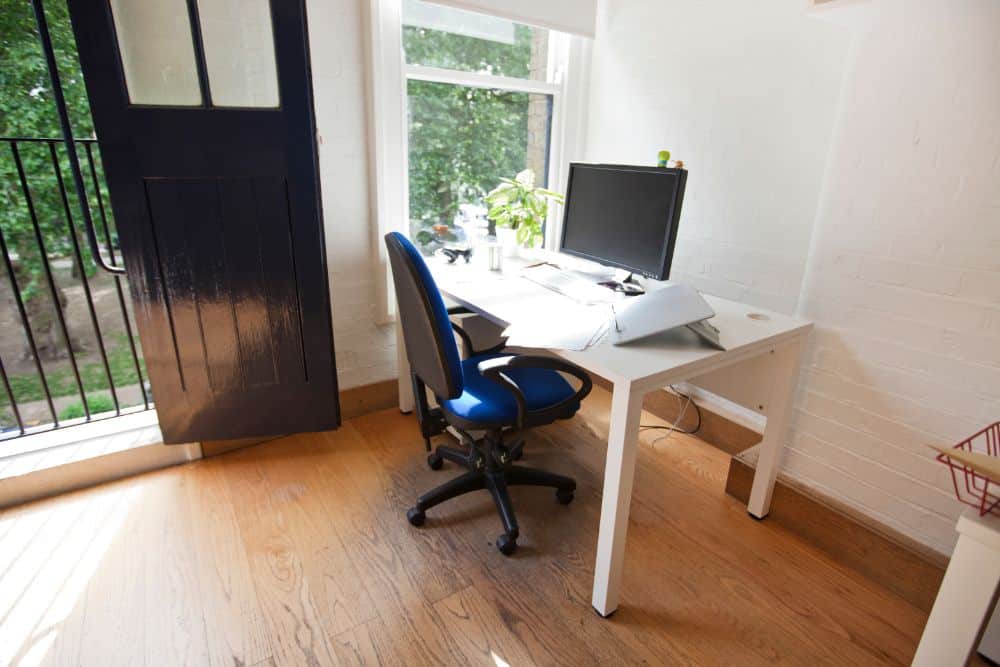 When compare a desk vs table usage, you get a few perks from using a table. It is way more versatile. You can use your table for work but also many other things. This is ideal if you have limited space since you won't need to put the table in a dedicated area like you would a desk.
Tables also allow you to customize your work area. You can add storage bins and other features to it to make it suit your needs or to custom design a computer table.
However, tables do not have a design made for working. They lack ergonomic design features to keep you more comfortable when working.
If you want to use your desk and table combination for multiple things, then you will have to be careful. Spills and other messes could become a problem. In addition, you will have to clean up your area every time you finish working to prevent damage or loss.
Choosing Between a Desk and a Table
Knowing the pros and cons of each option is a good start when trying to decide between the two. It is easy to see that they are very similar.
For example, most desks and tables are the same height, measuring in around 28 to 30 inches tall (6). The standard chair height for use with both is also the same at about 17 to 19 inches (6).
They also have some distinct differences, which can impact your choice. To make it easier to decide, you should look at how you will use it. Two examples are for working at home or setting up a classroom.
Working at Home
If you need a work area where you will do your job, then you want it to be off-limits to your children or others in the home. You want to protect your work from accidents or other issues.
In this situation, you may do best with an office desk unless you choose a smaller table that you put in a home office that is not accessible to anyone else. Having a desk, though, gives the sense that this space is only for you and nobody else can go near it or touch anything on it.
Setting Up a Classroom
If you're choosing workstations for kids, you may want to consider tables (3). They offer many perks over desks:
Better for group work and allowing kids to help each other
Allows more workspace
Easier to fit tables than chairs in classrooms with limited space
Tables can also make it easier to keep the classroom organized because you take the mess away from the desk (5). You can have a specific section of the room with bins and cubbies where every item has a designated spot. This can reduce the build-up of trash and other stuff kids seem to get in their desk storage spaces.
Making a Decision
Desks and tables both can serve the purpose of being a workstation. It is up to you because some people simply prefer one over the other or your specific situation may make one a better choice. Take time to consider your needs and make the decision that best suits them.
Amazon and the Amazon logo are trademarks of Amazon.com, Inc, or its affiliates. As an Amazon Associate and participant of various affiliate marketing programs, this site earns from qualifying purchases by visitors.