I come across a lot of people who wonder how to organize a messy office. People try to keep their offices clean. However, a clean office doesn't guarantee full efficiency unless you organize it to suit your needs.
Here, you will learn how to declutter desk and office space  and stay productive and organized.
I observe that many people leave their workplaces messy as they think that it doesn't affect their performance. However, they don't realize that a messy workplace reduces their productivity. They end up losing more time due to an unorganized workplace than the time it would take to organize the cluttered office space.
You might argue that you regularly remove the desk clutter at work, but it isn't enough. In my view, removing clutter is only a part of organizing your desk at your workplace or a messy home office.
I believe you should know how to organize your desk drawers and how to organize papers on the desk. People who work mostly on computers need to organize mail and bills to achieve maximum productivity.
As I said earlier, the best way to achieve maximum productivity at work requires cleanliness and organization. So, I would like to share some of the best advice that would answer the popular question, how to organize your messy office. I would primarily discuss organizing things at your office, but you can also consider it a guide on how to organize your desk at home.
So, let us start the discussion on how to organize an office.
How to Deal with Office Clutter?
The first step towards achieving the optimum working environment requires you to deal with the stuff on your desk. Here are the things that I would do if I need to organize a chaotic office space.
Collect Trash and Recyclables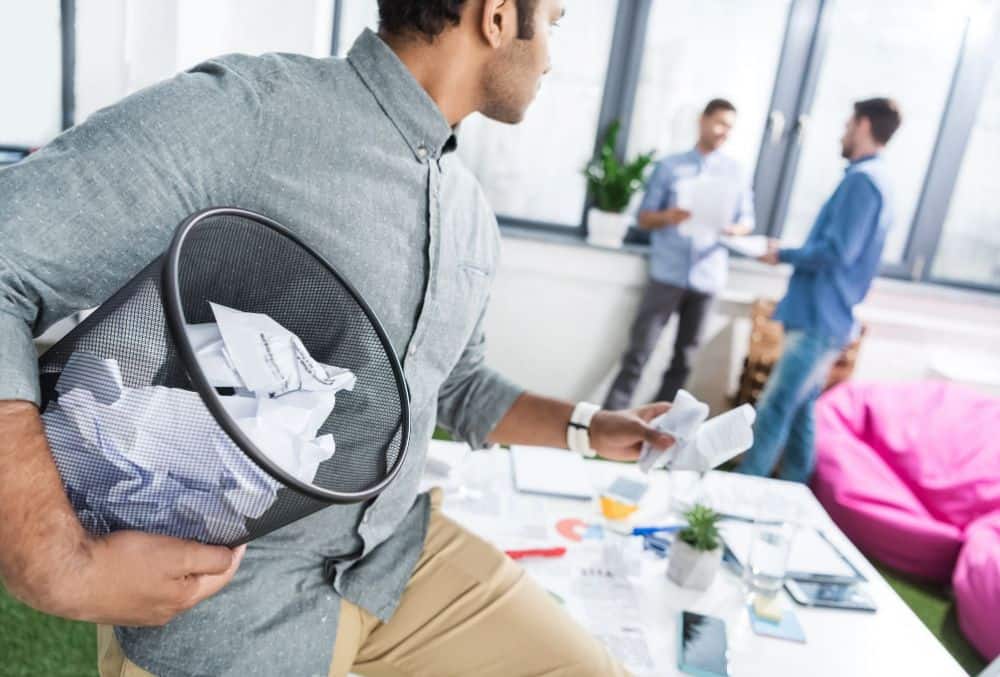 The best way to clean a messy house-based office or your professional workplace is to collect the things you don't need anymore. I find that many people, including me, tend to hold onto things that they no longer require. In my case, I put these items in a drawer, a cupboard, or in any other place where I can find them.
You might also do the same thing that I do. However, doing this leads to a wastage of space and slowly build up clutter. In most cases, it is clear that I no longer need these items, but I leave them at my workplace.
I might get rid of the desk clutter but not the office space, but it doesn't fulfill the aim, i.e., to declutter desk and office space.
To get an organized workplace, I suggest taking some bold measures. Firstly, you must get rid of the trash forever. To do this, I would take a couple of trash bags. In the first bag, we need to add trash that no longer deserves a place in the office. The other bag is to put things that could be recycled. You can also use a bag where you can put items that can be donated.
Once I get the trash bags, I go around my office and collect things that I no longer need. I start with the desk clutter but make my way through storage cabinets as well. One needs to move around the office space to find anything that no longer belongs there.
When sorting out trash, I encounter items that might be needed later but not at the moment. I put them somewhere safe so that they are easy to find when I reorganize things.
The things that I focus on first include old newspapers & magazines, catalogs, junk paper, coupons, old stationery, etc. These are the things that I no longer need in the office, and I can put them up for recycling.
You might encounter junk papers that might contain sensitive information. In such a scenario, I check if I have the information saved in a secure place and if the papers serve any purpose. Mostly these old documents are trash, so I use my trusted micro cut shredder to shred them before disposing of them.
The result is a clean workstation where I have dealt with the desk clutter and trash, and now I can focus on organizing the office space.
Organizing Your Desk and Drawers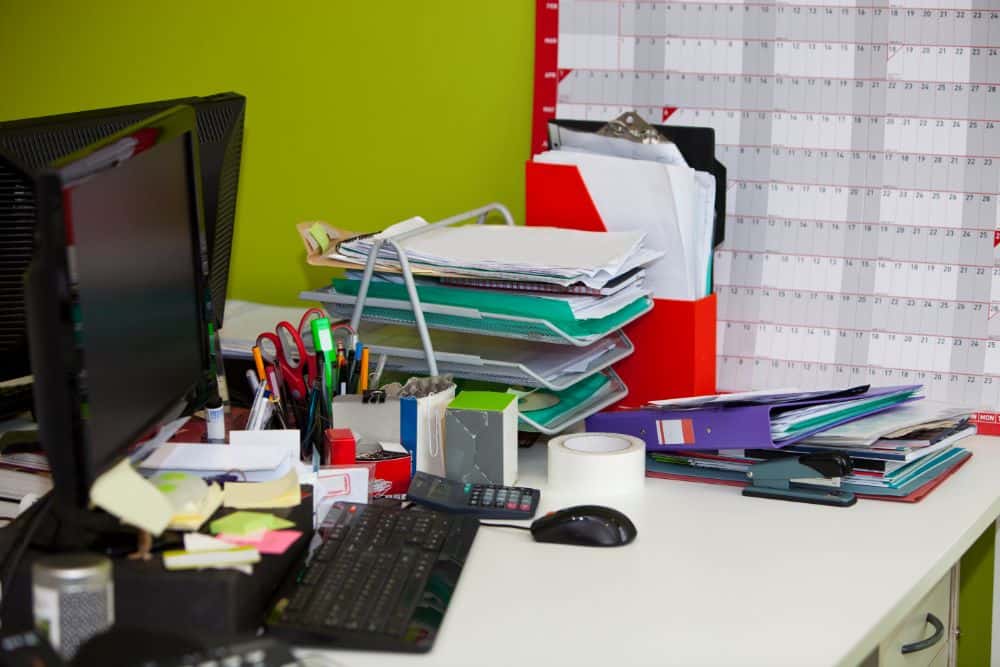 Removing desk clutter doesn't mean that you are done with organizing your workspace. In my case, the cleaning process is followed by adding things that I need regularly and properly arranging them. If you wanted to know how to organize your desk drawers, this part is for you.
The first step towards arranging your work desk is getting the necessary office organization supplies.
Labeling the drawers, files, cabinets, and other places where you store items you use frequently could save a lot of time later on. If you want to find a bill, you can look for it in a file labeled "bills" instead of going through various files. I prefer to have different colored files on my desk as it helps me pick the right file by just glancing at them.
You might want to know how to organize your desk drawers. The way I do it involves labeling them to help me identify the contents of the drawers. Now, labeling the drawers and putting the items in them is only half the job. You need to organize papers on the desk as well. 
If the documents need immediate attention, keep them on the tabletop, I use two piles to organize papers on the desk. The first pile consists of documents that require my attention. The second pile consists of documents that don't need immediate action. Doing this allows me to process these documents faster and more efficiently.
I also assign a drawer for stationery. Here I keep spare pens, staplers, Post-it, and other items that I might need regularly. This allows me to continue my tasks without any hiccup, as most of the things that I may need are kept in this drawer.
Digitization to Go Paperless
I am not the only one who believes that computers have made our lives a lot easier. I can use a computer to search for a file or documents in a matter of seconds. On the other hand, it would take me anywhere between a couple of minutes to almost fifteen minutes if I had to search for hard copies of the documents.
Transferring documents on a computer not only saves paper, office space, and time but it also allows me and my colleagues to access them easily. Digitization is one of the most excellent desk clutter solutions.
I keep a lot of files and essential documents on my office computer. However, getting rid of desk clutter shouldn't mean creating a mess on your computer desktop. Here are a few ways of optimizing and organizing your computer for maximum performance.
First of all, I suggest arranging the files in folders and naming them in a logical manner. Instead of naming files like 'Bill-1' and 'Bill-2,' name them 'Bill-Apr' and 'Bill-May.' You might understand the name 'Bill-1,' but the person to whom you are sending these files might need to open the file to know its content. If you give a file name that clearly explains what it is about, it will save your colleague's time.
The same goes for the emails that you write. Ensure that you have mentioned the subject and have labeled the attachments. Also, don't forget to organize your inbox. There would be lots of emails that are not needed. I would suggest deleting those emails. At the same time, you need to mark and organize essential emails.
For me, it is necessary to organize mail and bills regularly. Doing so allows me to find the information that I need the most right in front of me.
It is also necessary to create a backup of all the necessary things you have on your work computer. It will come in handy if the system crashes. I also suggest creating hard copies of the essential files and putting them in filing cabinets. This way, the files would be safe for future retrieval and won't lead to desk clutter.
Avoid Multitasking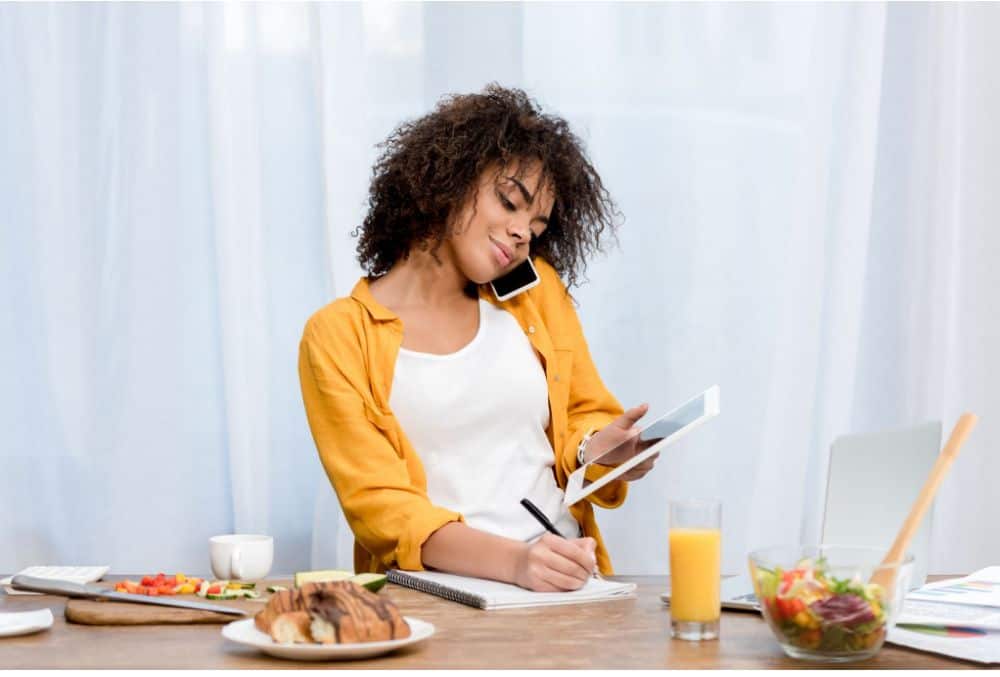 I have encountered people who consider them to be good at multitasking. You might be one of those people, and you might be one of the best ones out there. However, this habit of handling multiple tasks at once leads to chaos and disorganization.
I would suggest that you focus on one task at a time. Doing so will help you complete the job a lot faster and avoid a messy office space. If your job requires you to multitask, then arrange your workplace into different segments.
Suppose you need to handle databases and for two departments. If you use the same drawers and files to keep the details, you might find it difficult to find the relevant documents. So, I suggest you organize your office in such a manner that you assign different sets of cabinets and drawers for the files related to different departments. It would help you work more effectively and give a cleaner look to your office.
In my opinion, the best office organization ideas for people working on multiple projects include labeling the stuff related to a particular project to identify them easily. If possible, dedicate specific sections of your office storage, such as cabinets and drawers for files and documents related to these different projects. The same goes for the digital workspace, i.e., make separate folders and use different naming schemes for files.
How to Organize a Messy Home Office?
Many people work from their home, and this combination of home and office lead to a mess. If you want to learn how to organize your home office, you are in the right place. These tips come in handy in the current situation where most people are working from their homes for the first time.
So, let us discuss the process of turning your messy home office into an environment where you can aim for maximum productivity without any disturbances.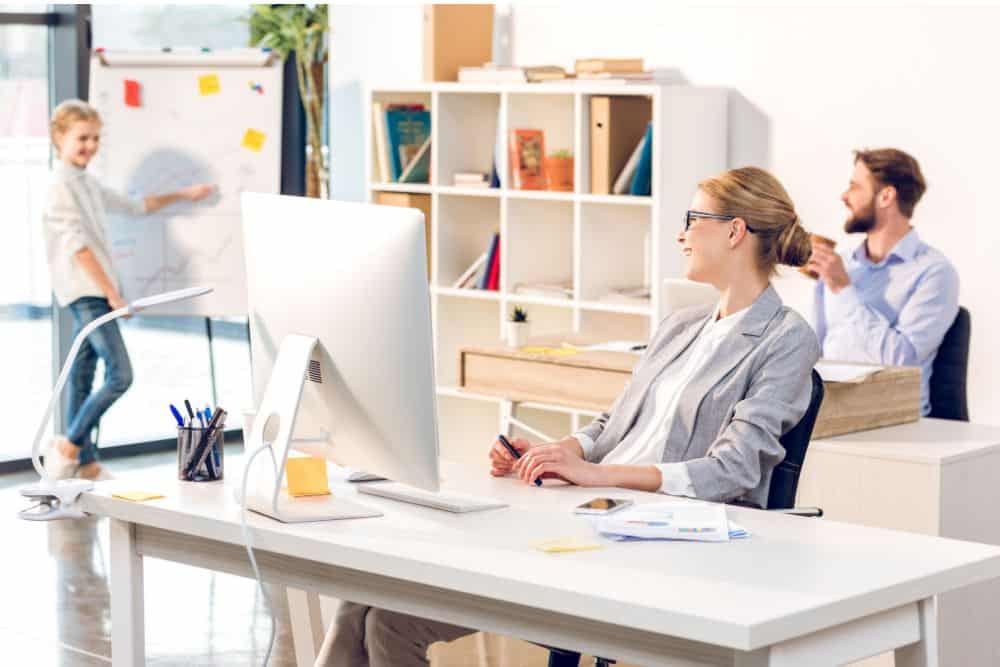 Dedicate a Room
I highly recommend dedicating a room or a portion of the room for your work. This means that the room should have little to no interference from other people who live in the house. It should have an internet connection and space to organize your work-related stuff. You don't want to create office clutter in your home.
If there is a study or den in your home, use it as your workplace. It would suit your needs perfectly. However, there is a chance that your study is not ready for use as an office. So, here's how to organize a study or den into an office space.
To turn your study into a home office, remove all the items that you don't need while working. Removing these items doesn't mean throwing them away. You can put them in the attic for the time being.
Once you have removed all the items that don't belong in your home office, you can start preparing it for work. So, here are some brilliant office organization ideas.
Assign drawers for documents that you regularly require during your work.
Make backups of all the essential data, and store it on the office server and also take printouts to keep them safe at your place.
Using drawers to keep your documents and labeling them for easier identification will help you tremendously remove desk clutter.
A clean workspace would help you focus on your task without worrying about not finding the right items when you need them.
A File System
I believe it doesn't matter if you rely on hard copies or digital copies of the files. You require a good filing system to achieve higher efficiency. If you are wondering how to organize your home office to get a filing system, here are the steps.
I suggest you create a folder where you keep a record of all the items you need to discuss. It also includes reports that you need to submit, as files and documents that you need to pass on to others. It will help you attend any remote meeting without any need to wonder about how to organize piles. Most of the items would be digital, and you will have no piles to worry about.
As most people will be working from homes, there would be delays in response to specific queries. So, I recommend that you create a folder for WOR (Waiting on Response) items. You can check this folder every day to see what items need a response. If you get a reply to a query, you can remove that item from this folder.
It is also helpful to get some storage boxes for your home office. You might do most of your work digitally, but you cannot entirely eliminate physical copies. A couple of storage boxes would come in handy while organizing these documents and reducing the desk clutter.
Cleaning Out Home Office
Recently, I was looking for the best way to clean a messy house. Working from home creates additional trash, and you need to deal with it. In addition to the trash, you would also need to take care of the space you are using as your home office. Here's what I do to clean my home office.
I clean my work desk before I begin my work for the day. A nice and tidy workplace means peace of mind and I can focus on my work. While cleaning my work desk, I don't just wipe the surface of the desk and computer. I also clean the drawers and even the pen holders and the coasters. It is astonishing to see how much dust and trash a home office produces during a week's work. If you don't dedicate some time to clean your home office every day, you will end up with a messy home office within a week.
The task of getting rid of old magazines, articles, and other waste paper applies to your home office as well. These are the items that are not needed and contribute towards office clutter. If you are using your study as a home office, you will notice that your drawers and shelves are full of junk paper that you could recycle to make space for essential items.
Organize Your Desktop or Laptop Computer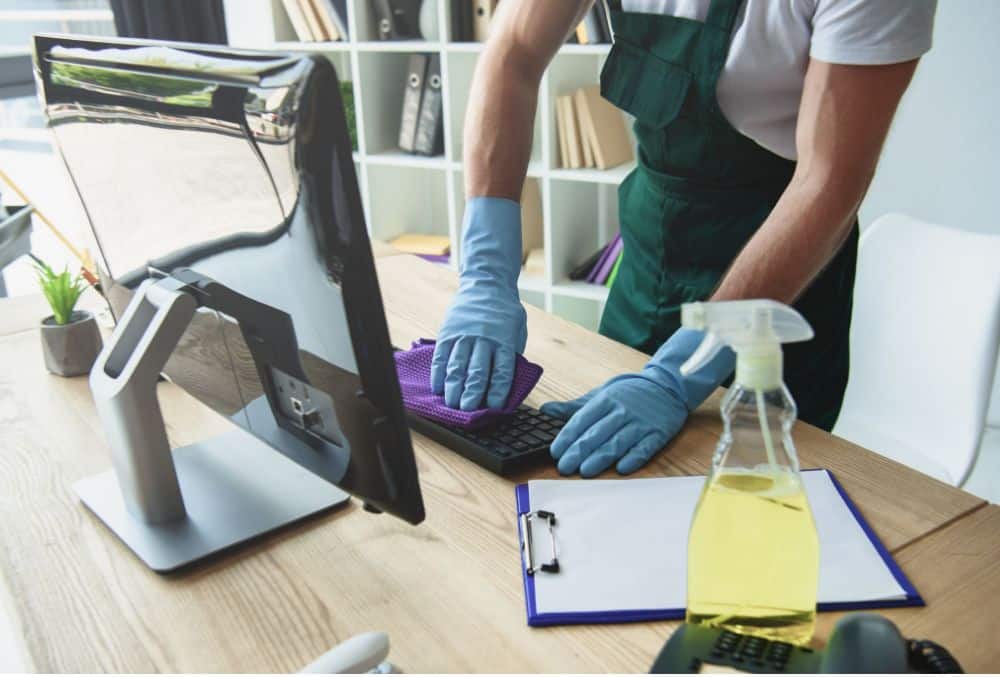 Any computer, personal or work, requires proper organization of files. Office clutter doesn't necessarily mean piles of physical files that you no longer need. It also includes digital files that are trash. Over time, your computer will accumulate irrelevant files and probably consume system resources or disk space. Getting rid of these files might boost the speed of your computer and keep it organized.
Planning
I suggest you plan your approach and adhere to a schedule when it comes to cleaning your workspace at the office or home.
I plan to clean my workspace daily. These daily plans are simple and deal with dusting off the surface and going through stuff like emails, files that need daily updates, and similar activities.
These daily plans could help reduce office clutter to a great extent. However, I suggest having a weekly plan, and some activities require additional time and resources. You need to dedicate more time than you can on normal working days for these tasks. So, plan ahead if you want to make some major changes to your work space.
Every weekend, plan your activities for the next week to ensure that you optimize your workplace in the best possible way. You can take this time to come up with business office organization ideas. Additionally, I recommend you put in some extra effort at the weekend to remove unwanted waste, physical as well as digital. It is one of the best ways to clean a messy house and your office.
Conclusion
These are some of the best tips that I could give on how to organize a messy office.I recommend you follow these guidelines thoroughly to develop a healthy and comfortable work environment at your office and your home.
These are the tips and tricks I follow to organize my workspace. You can come up with your ideas to suit your needs. All I request you is, be serious about the office clutter. It would significantly improve your productivity and output. However, I recommend you not indulge yourself in workplace cleanliness to such an extent that it turns into obsessive compulsive disorder (OCD).
Amazon and the Amazon logo are trademarks of Amazon.com, Inc, or its affiliates. As an Amazon Associate and participant of various affiliate marketing programs, this site earns from qualifying purchases by visitors.