Working from home requires us to spend more time on our laptops and computers. This also means more coffee stains, food crumbs all over our laptop exterior. If you ignore them for a more extended period, this dust and product build-up may ruin your laptop. Other than that, cleaning your electronics is equally necessary taking into consideration the ongoing pandemic, just like maintaining your hygiene. Keeping in mind these crucial necessities, I thought of giving you a few tips and tricks on how to clean laptop exterior at home.
You need to get rid of the piled up dust from your workstation to maintain proper hygiene. But in order to avoid damaging the laptop's exterior you need to know the appropriate ways of cleaning it.
There're a few crucial steps you need to follow for cleaning laptop exteriors, which are:
You need to disconnect any electrical devices such as power cords, cables, etc. connected to the laptop.
You should turn off any connected device with the laptop.
Further, I will share a few essential tips and tricks on how to clean laptop exterior using basic cleaning products. I've used these tricks and found them to be really useful, so I thought of sharing them here.
1. Why clean your laptop
Keeping our laptops and computers clean is as important as keeping ourselves clean. The exteriors get a lot of dust build-up due to its constant use, which is a great hazard for the system. If you notice carefully, you can see food grains, tea, or coffee stains, fingerprints, and whatnot. It is unhygienic to work on a dirty laptop station. A clean laptop will provide fresh energy and a refreshed mindset to start your day. The saying- "cleanliness makes it easier to see the details" fits perfectly in this context.
Also, the current pandemic situation mandates us to maintain healthy hygiene around us. Hence, cleaning the laptop exteriors at regular intervals is extremely important. I will give you a detailed write up on how to clean laptop body in the following points so go ahead and read the article.
2. When you need to clean your laptop
You need to clean your laptop exterior at least twice a month. However, it depends on your preference and usage. I prefer to clean it every fifteen days or so, which is really good for the exteriors to work proficiently.
You can just wipe it with clean cloth like every now then instead of a thorough cleaning. Always ensure to steer clear of abrasive cloth as it may damage the delicate areas such as the screen of your laptop. This makes the job much easier as it does not allow much dust build-up and hard stains. You will easily find laptop cleaners in the market if you want to use them to clean your laptop.
3. Cleaning the laptop screen
Are you confused about how to clean laptop screen and find it difficult? Fret not, read on to learn about simple steps that work perfectly with any laptop or even Macbook screens.
Step 1
Things you will need
A soft cloth, preferably a microfibre cloth
Water
Step 2
Dampen the microfibre cloth in the water. Be careful you don't drench your fabric in the water and wet it. Squeeze out excess water totally; your cloth only needs to have slight dampness; that's it. Remember never to spray any liquid directly on the laptop screen or over any other part of your laptop.
Step 3
Now you can rub the damp cloth in circular motions over the laptop screen. It will wipe away any dirt or dust from the screen. That's it: an easy way to clean your laptop screen.
4. Cleaning the laptop keyboard and touchpad
Out of all the exteriors, I believe laptop keyboard and touchpad is the one that gets the most usage. The gaps between the keys store the most amount of dust, and the touchpad is loaded with fingerprints. Leaving the keyboard and the touchpad dirty is bad for the laptop and your fingers that continuously work on them. I have seen people's fingers get really itchy due to the dust and other particles stored in the keyboard. Hence, cleaning them is a vital process.
You just saw how easy it is to clean the laptop screen using some simple products. Now let's see how to clean the laptop screen and keyboard following some simple steps.
Step 1
Things you will need
A compressed air can
Pencil eraser
A damp paper towel
Step 2
Switch off the laptop before you start cleaning
Step 3
You can gently rub the eraser through the keycaps. It will get rid of the dust, crud, and any junk build-up around the keycaps. Secondly, you can use the compressed air can that will further blow away excess dust stuck around the key gaps and underneath it.
To clean the touchpad, use a damp paper towel, which is more than enough. Ensure that the cloth is not wet and doesn't allow any water to seep through the touchpad or inside the keycaps.
5. Cleaning the laptop accessories and bag/case
While it is necessary to keep the laptop exteriors clean, we tend to ignore the laptop bag or case whose cleanliness is essential for smooth functioning of the laptop. If you carry your laptop regularly to your workplace, cleaning the bag every alternate day is a must. Keeping in mind the current scenario of the ongoing pandemic, regular sanitization has become of utmost importance in keeping your home office organized and clean . Let's see how to clean laptop case by following these basic steps.
Step 1
Things you will require
An old toothbrush or a cloth
Sanitizer
Mild detergent
Washing machine
Step 2
If you just want to dust off the dirt and other particles, you can simply brush it through an old toothbrush. You can also give it a mild jerk with an old cloth. This will wipe away the dust from the bag's surface. Next, you can spray a sanitizer all over the bag to disinfect it before the next usage.
Also, your bag needs proper cleaning every few months to get rid of hard stains. Hence, wash your bag using a mild detergent. If you have a machine washable bag, you can opt for cleaning it in the washing machine in case hand washing seems tiresome to you. Rinse off the water well from the bag and let it air dry. If you have other laptop accessories, keep cleaning them regularly.
6. Cleaning the laptop cooling vents and port
By now, you've a fair idea about how to clean laptop exteriors. Other than the exterior, you also need to clean your laptop's cooling vents and port. Spray the compressed air can from an upright angle into the vents, and that's enough to clean it. But make sure not to spray it too harsh to avoid any damage.
Here is everything about cleaning the laptop exterior I had to share with you. I hope you find it easy and helpful. Make sure to clean your laptop using these methods for an easy clean-up.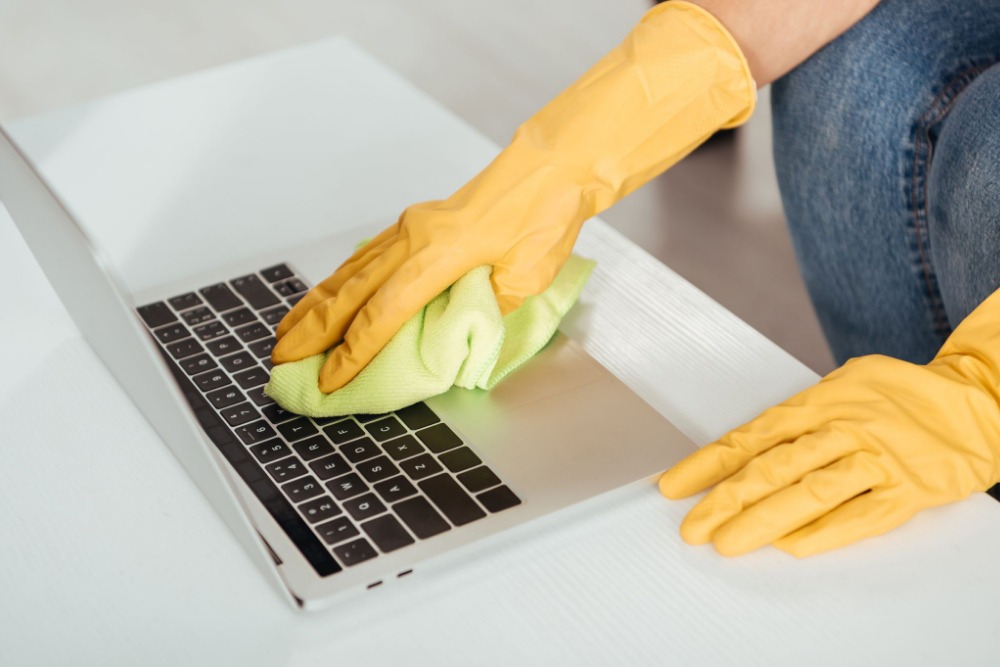 FAQs
Q. How to clean fingerprints off laptop keyboard?
You can use a damp cloth or cotton swabs and wipe it gently on the keyboard to clean fingerprints off the laptop keyboard.
Q. How to clean laptop sleeve?
You can clean your laptop sleeve using an old toothbrush for a surface clean-up. But if there are hard stains on it, use detergent and wash it properly.
Q. What can I use to clean my laptop screen?
A simple damp cloth is generally enough to clean your laptop screen. However, be careful not to soak the cloth entirely in water and squeeze it well before using it on the screen. Wipe the fabric in circular motions, and it will get rid of the dust and dirt from the screen.
Always avoid using wipes that contain sodium hypochlorite (bleach) and any chlorine-based solutions to clean the laptop. You should also stay away from abrasive cloth and opt for microfiber cloth and paper towels only. Make sure you are using a proper cleaning solution and aren't supplementing it with other similar products such as window cleaners.
Q. Can I clean the computer with alcohol?
You can use 70 percent isopropyl alcohol (rubbing alcohol) to clean your computer. But you must not spray the alcohol directly into the computer. First, apply a moderate portion on your cloth, then you can clean the computer using the cloth.
Q. How to disinfect screens?
You can dampen a cotton cloth in an alcohol-based sanitizer and wipe it over the laptop screens to disinfect it.
Amazon and the Amazon logo are trademarks of Amazon.com, Inc, or its affiliates. As an Amazon Associate and participant of various affiliate marketing programs, this site earns from qualifying purchases by visitors.